In this week's edition of EXPOSED!, where I look into the misdeeds and dodgy dealings of the corporate state, it is worth remembering that sometimes nations, or their ruling elites, are often as guilty as any single company, if not more so. The PRC's recent trade initiative is one such instance...
China's Belt and Road Initiative (BRI) is a global development strategy adopted by the Chinese government in 2013. It involves infrastructure developments and investments in nearly 70 countries and international organizations. The name was coined by China's President Xi Jinping as he drew inspiration from the concept of the Silk Road which was established during the Han Dynasty around 2,000 years ago. Xi's plan is to build a Silk Road Economic Belt and a Maritime Silk Road in order to promote economic co-operation and connectivity through infrastructure investment among the countries along the routes. The goal is not only to expand infrastructure in developing countries but also to win over local populations and governments by funneling investment, jobs and economic growth in their direction. The countries covered by the initiative have a combined population of over 4.8 billion people which is more than half of the population of the planet. The economies it covers are worth around $21 trillion and account for 62% of the world's GDP. In 2017, $900 billion in projects were already planned or underway with China sinking this money into ports, railways and energy projects across Asia, Africa and Europe. The path forward has been bumpy though, with questions regarding the commercial value of certain projects. There are also concerns of the initiative being a backdoor for sinister geopolitical ambitions which have undercut Beijing's official rhetoric of "win-win" cooperation. This has been illustrated by the uncertainty surrounding its plans.
It has been described as a Chinese Marshall Plan, a state-backed campaign for global dominance and a massive marketing campaign for something that was already happening – Chinese investment around the world. But unlike the Marshall Plan, which mainly dispersed aid in the form of grants that did not have to be repaid, China uses loans that often come at commercial interest rates. BRI spending in developing countries has raised serious concerns about debt sustainability. Beijing's most persuasive tool is not reason but resources. Dangling attractive infrastructure loans in many areas that lack viable resources, China has successfully persuaded countries to accept terms that would otherwise be difficult to swallow. The contract behind a troubled highway project in Montenegro for example, not only gives Chinese workers the lion's share of the work but also requires any disputes to be settled in Chinese courts. International companies are likely to find those requirements too risky but perhaps that too is part of the strategy for favoring Chinese firms.
China's dominance in the construction sector comes at the expense of local contractors in partner countries. The vast sums raked in by Chinese firms are at odds with the official rhetoric that Belt and Road is open to global participation and suggests that the initiative is motivated by factors other than trade, such as China's need to combat excess capacity at home. The president of the EU Chamber of Commerce in China criticized the BRI saying it has "been hijacked by Chinese companies, which have used it as an excuse to evade capital controls, smuggling money out of the country by disguising it as international investment and partnerships."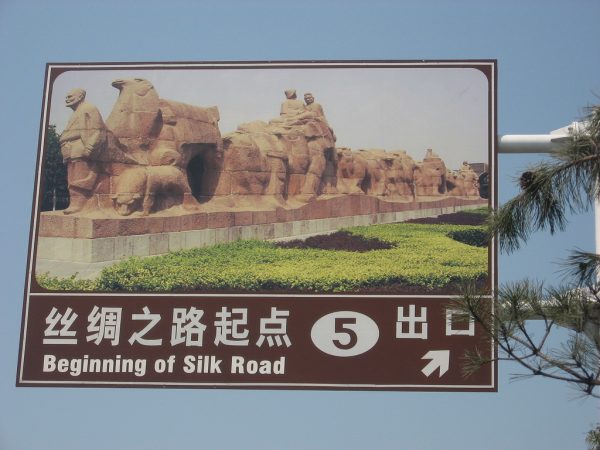 But none of this comes without risk for the participating countries. Debt-traps loom large as some have already found out. Sri Lanka accepted billions of dollars of loans from China for infrastructure projects including a new port that feasibility studies said wouldn't work. The government ended up leasing the port back to a Chinese company but with Sri Lanka still being deeply indebted to China.
In 2018, Malaysia cancelled BRI projects due to bankruptcy fears. The then prime minister Mahathir Mohamad said the East Coast Rail Link and a gas pipeline project would be cancelled to reduce Malaysia's debts. He argued that they didn't benefit Malaysia because they were too expensive and failed to create local employment. During a press conference he said he did not want to see Malaysia become a bankrupt country and Mahathir blamed his predecessor Najib Razak, who is facing corruption charges, for entering into the lopsided deals with Chinese companies which had no exit clauses. He was quoted by the South China Morning Post as saying "If we have to pay compensation, we have to pay….We must find a way to exit these projects….this is our people's stupidity." Mahathir warned against a new version of colonialism in an apparent reference to the debt burdens some countries were facing after accepting Chinese investment under the Belt and Road Initiative. Malcolm Cook, senior fellow at ISEAS-Yusof Ishak Institute in Singapore said "Prime Minister Mahathir has always been known to say what others may be thinking but are afraid to say."
https://www.nytimes.com/2018/08/20/world/asia/china-malaysia.html
The Center for Global Development found that some Belt and Road countries were at risk of not being able to pay their loans. Being some of the poorest in the region, Djibouti, Kyrgyzstan, Laos, the Maldives, Mongolia, Montenegro, Pakistan and Tajikistan owe more than half of their foreign debt to China. China is seen as using debt-trap diplomacy to get strategic concessions on territorial disputes or achieve silence on human rights violations. In 2011, China wrote off an undisclosed debt owed by Tajikistan in exchange for just over 1,000 square kilometers of disputed territory.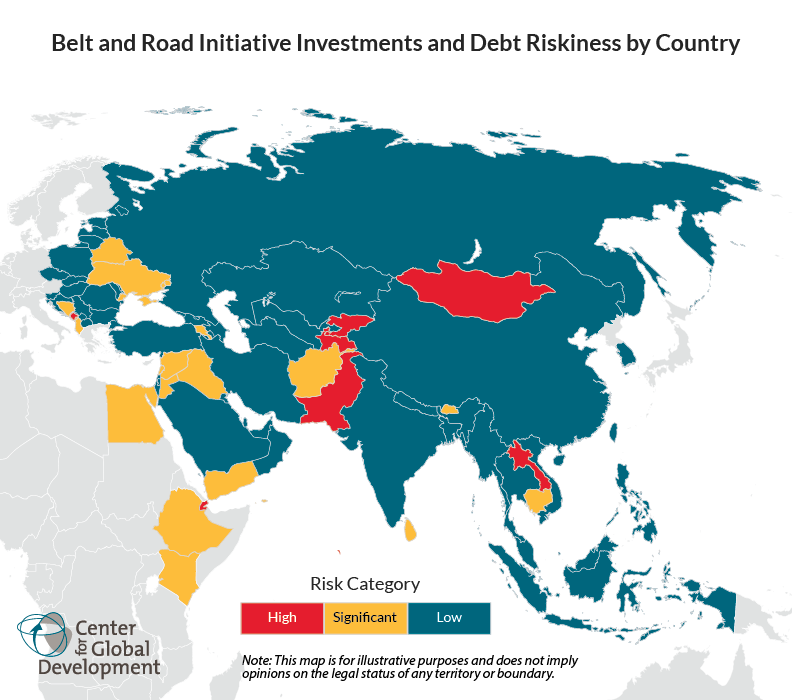 Scott Morris, one of the authors of the Washington Center for Global Development report said
"There are some extreme cases where China lends into very high risk environments and it would seem that the motivation is something different. In these situations, the leverage China has as lender is used for purposes unrelated to the original loan."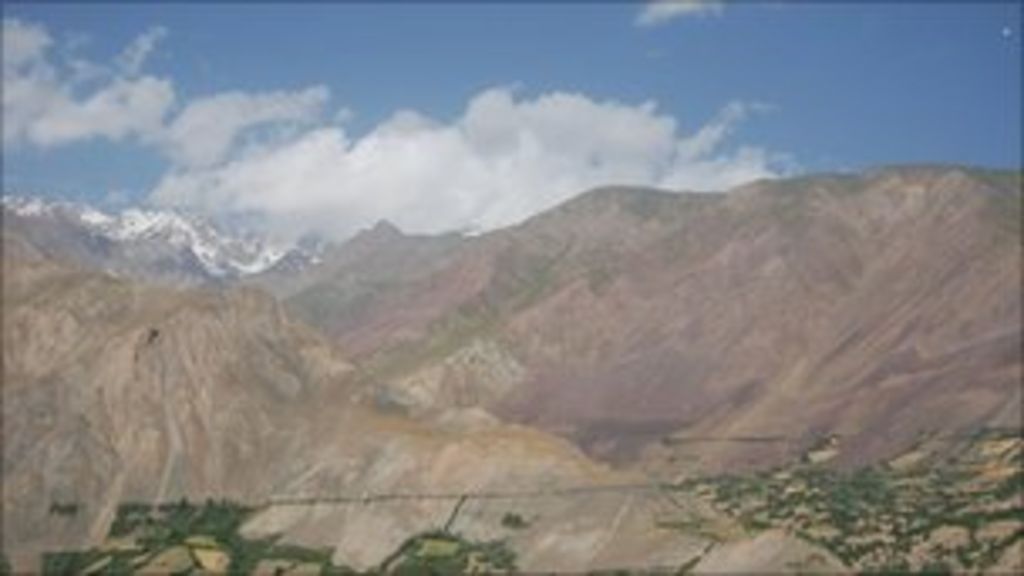 Many countries will need support to service BRI loans and will no doubt turn to the IMF. The IMF has scrutinized multiple aspects of the BRI and repeatedly warned of unsustainable debt levels, predatory lending and the lack of project transparency. The IMF will request greater clarity on foreign currency payments including details of BRI loans before authorizing a credit line and there is a possibility of disagreement between the IMF and China over the future of BRI projects in debt-distressed countries. Chinese loans violate several international lending best practices involving procurement, transparency and dispute settlement. Chinese contractors dominate infrastructure projects and China-funded loans are less transparent than those from multilateral development banks. China has also enshrined BRI into its constitution, putting pressure on state companies and officials to continue lending.
"China wrote Belt and Road Initiative into the party constitution. That makes it riskier than ever,"
CNBC News
Disputes will become more commonplace as the BRI is traversing some of the world's most difficult business environments. In South Asia, for example, 75% of countries rely on paper records for land rights, leading to confusion and competing ownership claims. Having demonstrated a reluctance to abide by international investment standards, China has established two courts to resolve BRI related disputes outside of existing settlement venues. One court is based in the southern Chinese city of Shenzhen and will handle disputes arising along the maritime "Road", while another based in central Xi'an will handle cases along the overland "Belt". The BRI courts underscore how China is working to revise the current rules-based order. Initially at least, the courts will focus on disputes between commercial investors rather than between states or between investors and states. But given the BRI's tendency to expand, the ambitions of its courts might grow as well. As more BRI projects break ground, China would naturally prefer to play by its own rules rather than abide by the status quo. When projects fail, it will be better positioned to protect its own interests and shift losses onto its partners. Beijing casts itself as lender and builder to all who are along the Belt and Road. But if the courts succeed it could become judge and jury.
As Belt and Road expands in scope, so do concerns that it is a form of economic imperialism that gives China too much leverage over other countries, often those that are smaller and poorer. Jane Golley, an associate professor at Australian National University, describes it as an attempt to win friends and influence people. She said "They've presented this very grand initiative which has frightened people. Rather than use their economic power to make friends, they've drummed up more fear that it will be about influence." Some worry that China's expanded commercial presence around the world will eventually lead to expanded military presence. Analysts say almost all the ports and other transport infrastructure being built can be dual-use for commercial and military purposes.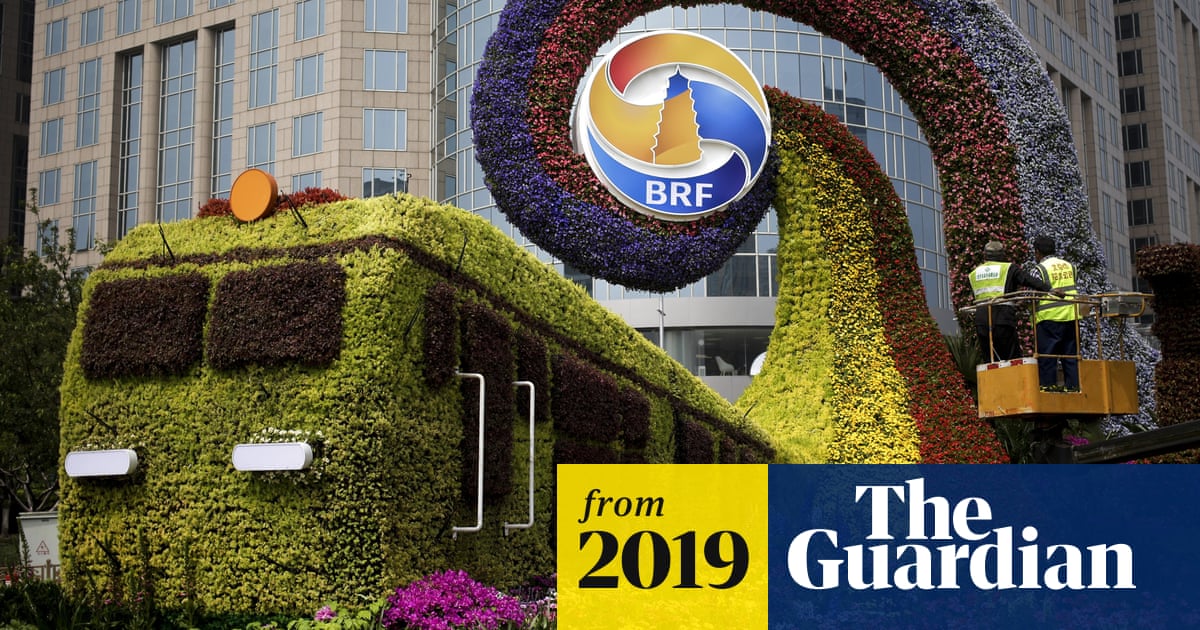 This ever-expanding initiative where commercial and strategic objectives mix easily, sees China increasingly writing new rules to advance its interests. The implications for rules-based order could be profound.