Today, in my weekly column exposing corporate corruption and government misconduct wherever and whenever, I'm taking a further close look at one of my least favorite but easiest targets...
Don't think for a moment that when you do a search on Google that you are getting the best of results in a true and fair fashion. Google claim that their algorithms are objective and essentially autonomous, not influenced by human bias or business considerations.
The power that Google wields is immense due to the huge volume of inquiries that are typed into the search box every day. How it comes up with suggestions and gives the world access to information is a powerful tool which can be easily misused. The number of searches per day is mind boggling, with over 40,000 queries every second on average. This equates to 3.5 billion searches per day and 1.2 trillion searches per year worldwide.

The temptations must be high to re-engineer and interfere with search results and evidence suggests Google does, in fact, tip the scales. Engineers are making adjustments behind the scenes to ensure that big businesses are favored over small ones. eBay, for instance, is a major Google advertiser so results tend to favor it, with the company's left-leaning political bias also influencing the results.
In a research paper published by Tim Wu, a legal scholar and former adviser to the Federal Trade Commission, Google was accused of knowingly manipulating search results, hampering competitors and limiting consumers' options. Wu said:
"The main surprising and shocking realization is that Google is not presenting its best product. In fact it's presenting a version of the product that's degraded and intentionally worse for consumers."
A study run by Yelp also found glaring evidence that Google denies consumers the best results:
"The easy and widely disseminated argument that Google's universal search serves users and merchants is demonstrably false. Instead, in the largest category of search (local intent-based), Google appears to be strategically deploying universal search in a way that degrades the product so as to slow and exclude challengers to its dominant search paradigm."
Documents leaked to the Daily Caller showed that Google manually manipulated search results to exclude conservative sites. The documents outlined two Google policies which were known as the "misrepresentation" policy and the "good neighbor" policy. These would determine which websites ended up on the "XPA news blacklist."
"The T&S [Trust and Safety Team] will be in charge of updating the blacklist as and when there is a demand. The deceptive new domain blacklist is going to be used by many search features to filter problematic sites that violate the good neighbor and misrepresentation policies."
The documents outlined that:
"The purpose of the blacklist will be to bar the sites from surfacing in any Search feature or news product. It will not cause a demotion in the organic search results or de-index them altogether."
According to the Daily Caller, a "manual review tool" is also "involved in maintaining the blacklist," which includes:
"Gateway Pundit, Matt Walsh's blog, Gary North's blog, 'teapartyeconomist.com', Caroline Glick's website, Conservative Tribune, a property of the Western Journal and the website of the American Spectator."
Google CEO Sundar Pichai claimed in a hearing before Congress:
"we don't manually intervene on any particular search result."
However, a leak of a Google document entitled "The Good Censor" contradicted this. In the document Google admitted that tech companies were on a "shift toward censorship," and should "police tone" of users. Google and others take advantage of Section 203 of the Communications Decency Act which defines them not as publishers but as neutral platforms. The document on the other hand, shows that Google wants to be the guarantor of "civility" with the categories of "editor" and "publisher".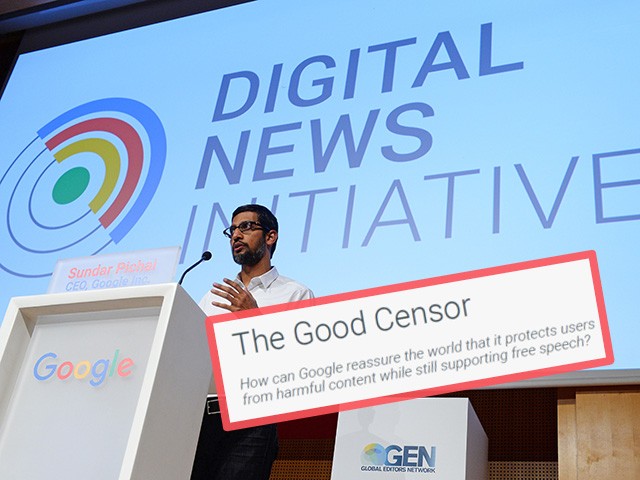 Google have just found themselves at the wrong end of a lawsuit from the US government having been accused of violating competition law in order to hold onto its monopoly over internet searches and online advertising. This is one of the biggest lawsuits brought against a major tech company in recent years and it follows over a year of investigation of Google's activities both in the US and elsewhere in the world.
Google's response has been to say "People use Google because they choose to – not because they're forced to or because they can't find alternatives". The lawsuit focuses on the billions of dollars Google pays each year to ensure its search engine is installed as the default option on browsers and devices such as mobile phones. Through its deals, Google has become the "gatekeeper" of the internet, enjoying around 80% of search queries in the US alone.
The lawsuit said:
"Google has thus foreclosed competition for internet search. General search engine competitors are denied vital distribution, scale and product recognition – ensuring they have no real chance to challenge Google. Google is so dominant that 'Google' is not only a noun but also a verb that means to search the internet".
The suit added that the deals have hurt the public by damaging search quality in terms of privacy and data protection, reducing choice and thwarting innovation.
Google also has a dismal record when it comes to fines imposed by the authorities in the European Union:
In 2017, a 2.4 billion euro fine over shopping results.
In 2018, a 4.3 billion euro fine over claims it used Android software to unfairly promote its own apps.
In 2019, a 1.5 billion euro fine for blocking adverts from rival search engines.
Google's stated mission is:
"to organize the world's information and make it universally accessible and useful."
How the company goes about doing this with your information has come in for much criticism, so much so that resistance against Google is growing and groups are offering guidance on how to get Google out of your life.
Don't be fooled into thinking that Google is offering free services as they are all aimed at vacuuming up your data whether you like it or not. Most people rely on Google for much of what they do online with searches, YouTube, Gmail, Maps and Chrome are all part of the package.
Google knows where you live and where you go, what you search for, what you do generally online and who is on your contacts list. If you use an Android phone, Google has access to all of your photos, call data and a list of every app that you use.
So there you have it...it's up to you now!