Another Bitcoin primer by @AnilSaidSo
Asset classes are defined by the preferences of a generation. So how will the world's first digitally-native cohort behave?  Millennials get a lot of the attention, but the future of Bitcoin will one day be driven by Generation Z to see the asset through to its maturity.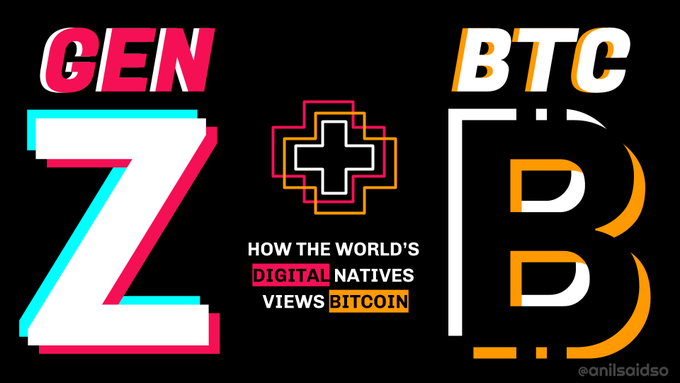 Firstly, who is Gen Z? What are the generational boundaries?  There's still much debate about the exact cut-off for millennials, but let's take the @pewresearch definition of people born between 1997-2012. Making this cohort currently between 8 and 23 years of age.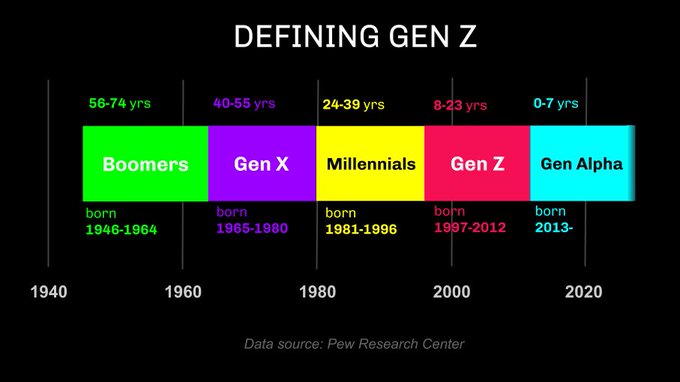 While population growth in the West has slowed to a crawl, the number of young people in Western Africa and parts of Asia exploded in recent years and will continue on a steep incline.  "Africa will define the future (especially the bitcoin one!)."  -@jack (Nov, 2019)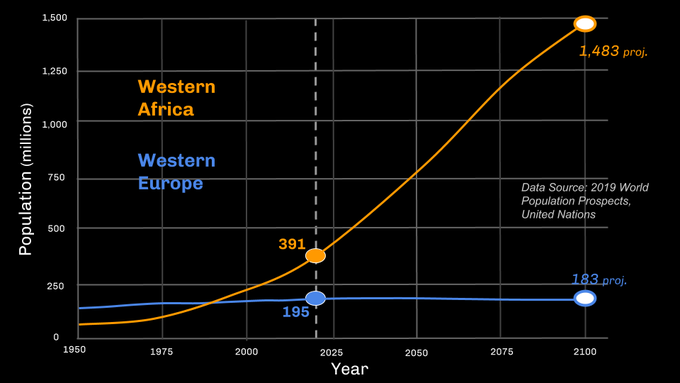 What major event have shaped their experience so fat?  "The defining things in life are the things that happen in early formative years, your early teens and mid-teens. For Gen Z, that event was the financial crisis." -Bill Handel, @TheRaddonReport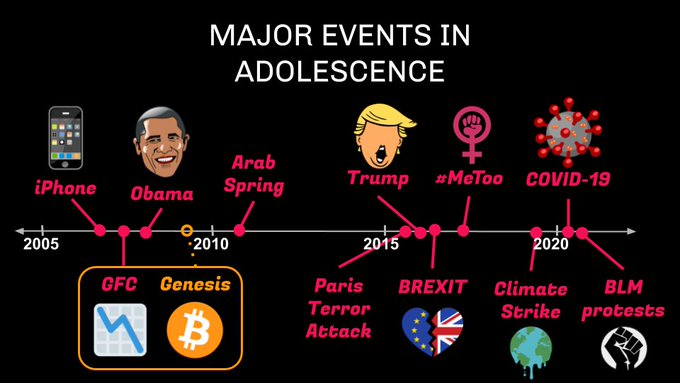 The youngest Gen Z's do not know a world without Bitcoin in it.  It's as much of a mainstay in the financial world as any other viable investment. Though this time they get to be part of the asset's birth story and ride it to maturity.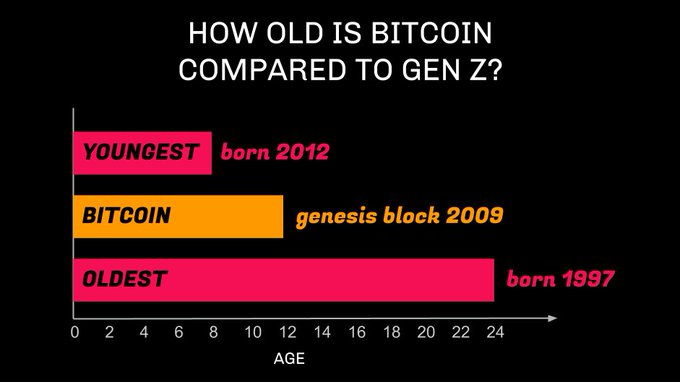 A few key attributes about this generation.  1. They're well-educated and have grown up with access to the all the recorded knowledge in human history.  Source: Pew Research https://pewrsr.ch/35FCe5v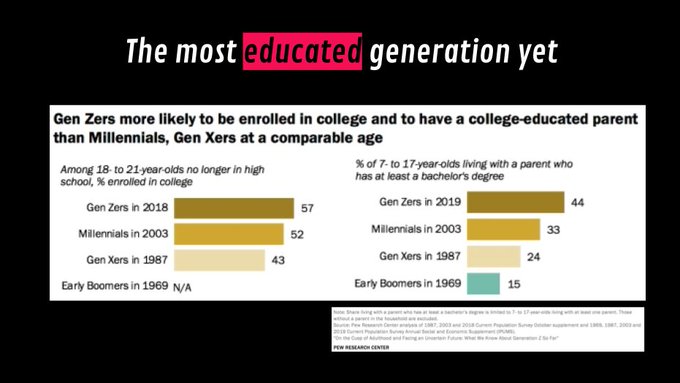 They are never not connected. There will be no bullshitting a generation with the ability to instantly self-verify any claim.   Source: Global Trends Among Gen Z  https://bit.ly/3lE0vi0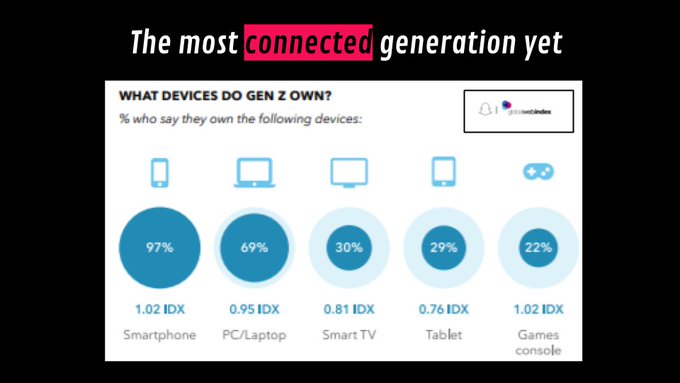 Hammered by the post-COVID job market, coupled with greater access to freelancing platforms and tools for building online businesses, Gen Z is unlikely to risk placing all their eggs in one basket. The true ascent of online small business is coming.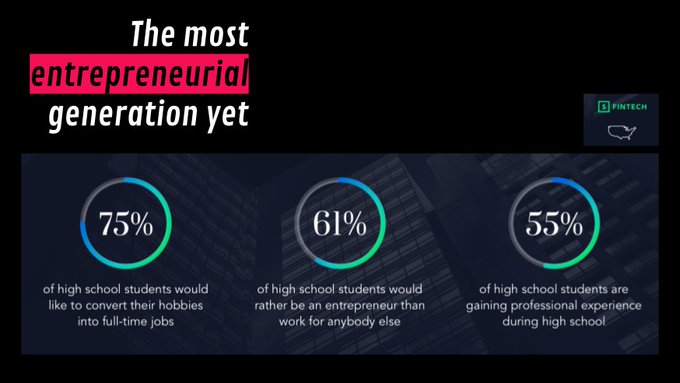 Gen Z have learnt from our mistakes. Trusting third parties with your personal data is a risk to be avoided where possible. They also demand a service that is operational 24/7.  Generation Z: Fuelling Disruption in Financial Services via Target Group https://bit.ly/3lrxKF6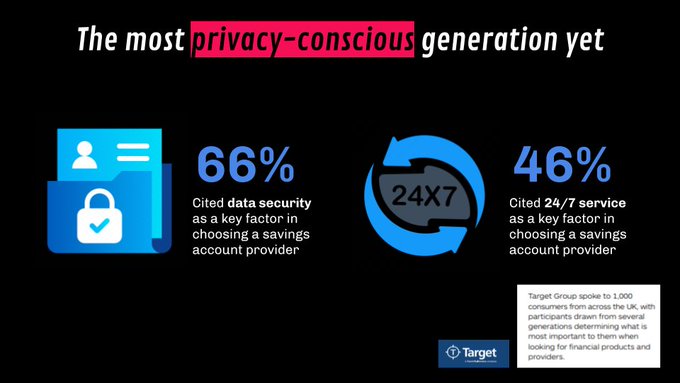 4. continued  Global Trends Among Gen Z via Snap Inc & @globalwebindexhttps://bit.ly/35pZNiz   Gen Z: Approaching Money Differently via @visualcapitalist  https://bit.ly/32BFQ6M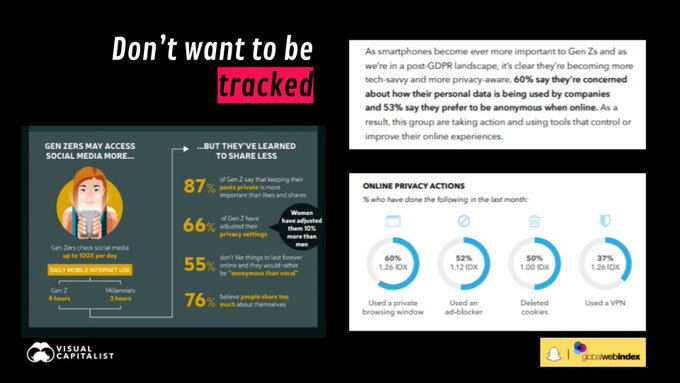 What about the attributes of bitcoin and the digital world in general that they intuitively understand?  1. The value proposition of pseudonymous identities when communicating online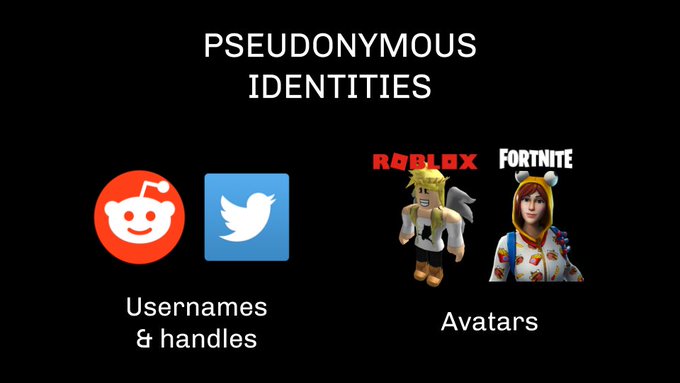 The digital world as a more dynamic and convenient alternative to the physical.  "Fortnite operates as much like a social network as a game..   that's what Fortnite is: a community, a virtual 'third place', the Starbucks of its day." -Peter Suderman (NYT, 25 May 2019)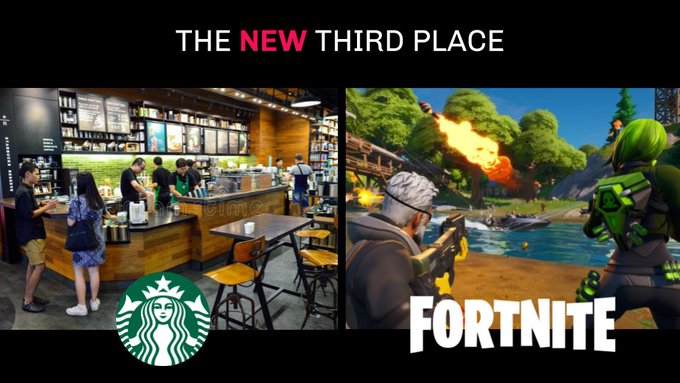 Gen Z are intimately familiar with non-gov't issued digital monies and transacting instantly, without friction, in their chosen realms.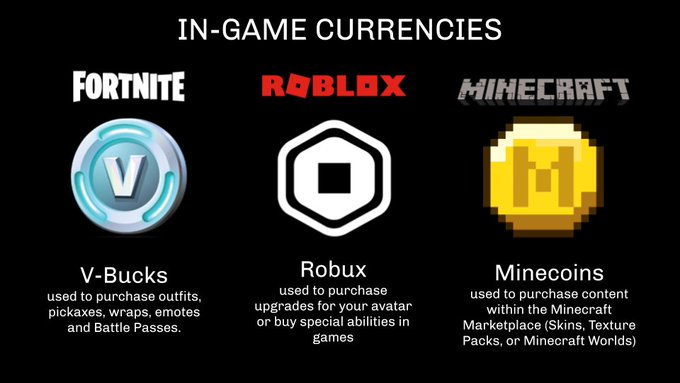 "Gen Z is more interested in digital payments products & services than any other generation.  Over half use digital wallets monthly, and over three-quarters use other digital payment apps or P2P apps.." -@businessinsider   Banking & Payments for Gen Z: https://bit.ly/3neruRA
Bringing it all together.  "The most important driver of anything tied to money is the stories people tell themselves and the preferences they have for goods & services. Those things don't tend to sit still. They change with culture and generation." -@morganhousel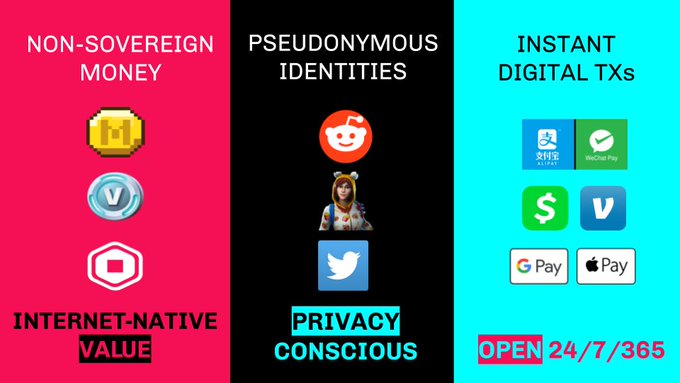 What about how Gen Z is approaching money & investing?   "trust is actually eroding in institutions and legacy providers of financial services. And trust in software and technology startups is really increasing."  -@illscience  (GP @ a16z)  chart: @EdelmanPR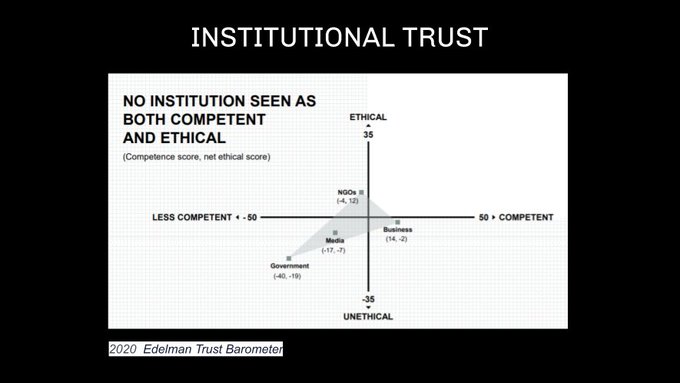 Older Gen Z's are actively seeking alternatives as the incentives of holding cash savings has evaporated in their lifetime.  "In a world where benchmark interest rates globally are near, at, or below zero, the opportunity cost of not allocating to bitcoin is higher." -Fidelity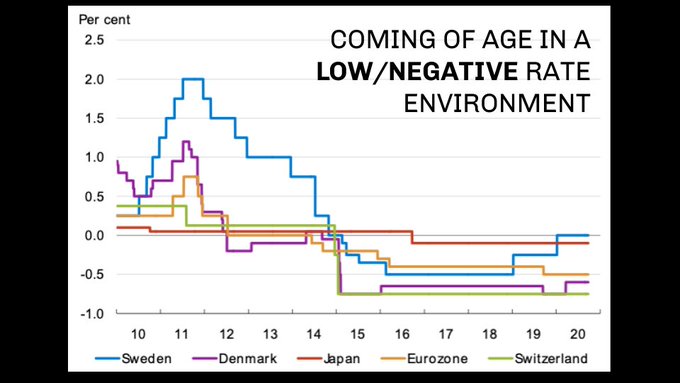 Although buying power is relatively limited at the moment, Gen Z's current habits (investing > saving in fiat) will shape what they do when they see their wealth increase.   Manole Capital 2020 Gen-Z Financial Services Survey: https://bit.ly/3f0MVCE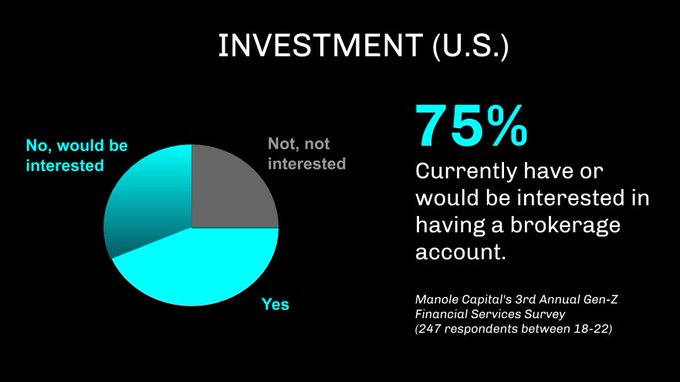 "Why would I go to someone for financial advice when I can find what I need online? It's DIY, it's tech, it's an alternative to an older model."   -Jonah Stillman, co-author of 'Gen Z @ Work'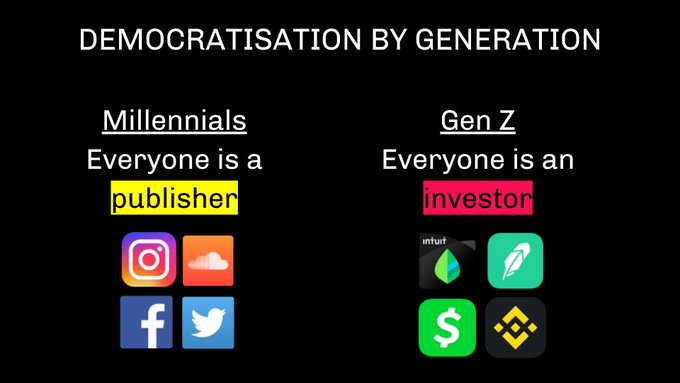 In the coming decades the largest generational wealth transfer we've ever seen is set to take place. This wealth will need a home to protect its purchasing power against the ever-increasing money supply.  The Great Wealth Transfer by @cerulli_assoc  https://bit.ly/3ls65E1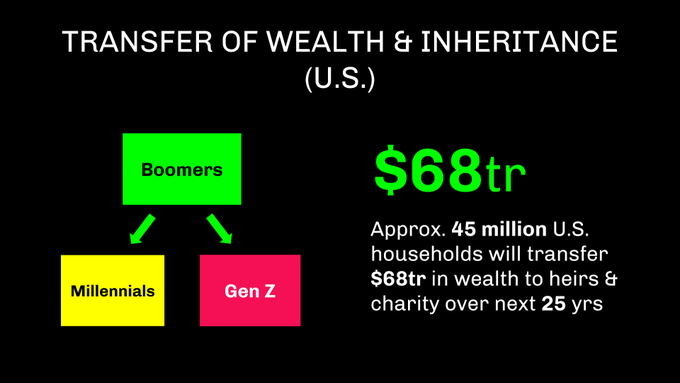 Chief Strategy Officer at CoinShares, @Melt_Dem explains the significance of the shift that is currently taking place.  Fidelity Digital Assets: Bitcoin Investment Thesis https://bit.ly/3lNzYyV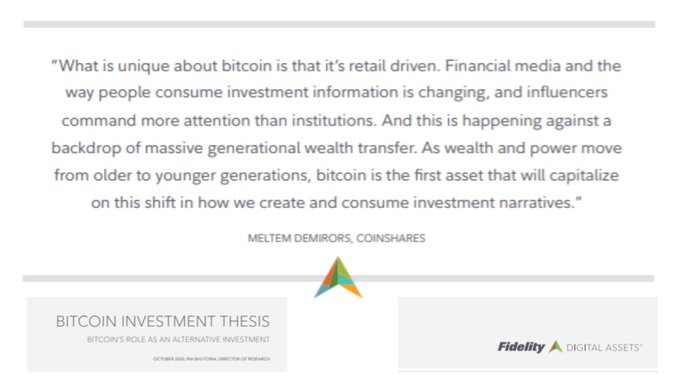 Via a @Paxful commissioned survey of U.S. Millennials (aged 22 to 42) and Gen Zers (18 to 21) in August 2019.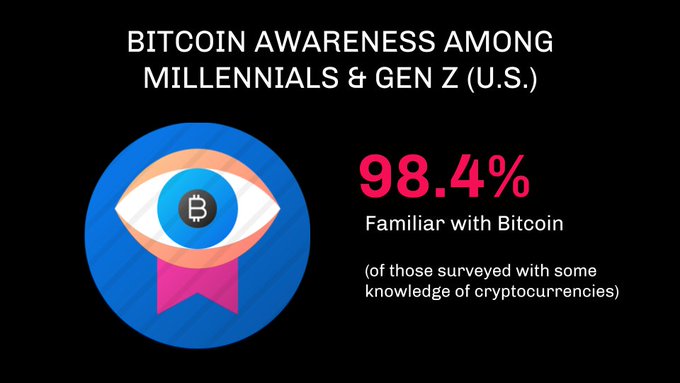 From "Differences in Bitcoin Perception Across Generations" by @ssaurel   https://bit.ly/3f8O5fF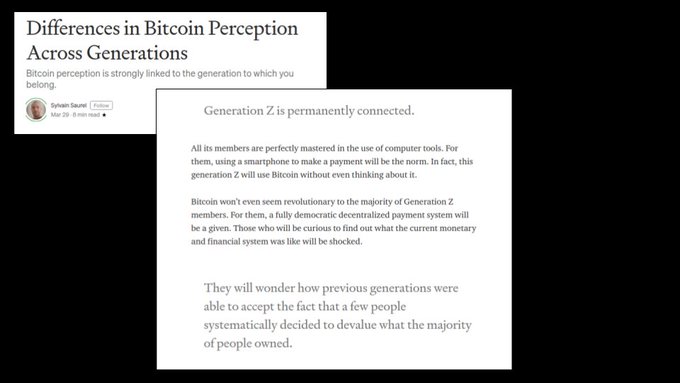 From "Crypto Markets Are Maturing, but Gen Z Is Rewriting How Markets Work" by @NoelleInMadrid   https://bit.ly/3kEZ3dR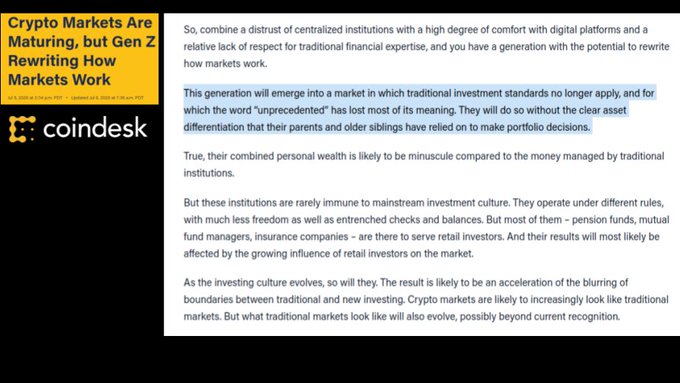 "Over the course of every new techno-economic paradigm a new generation grows with it." -@cburniske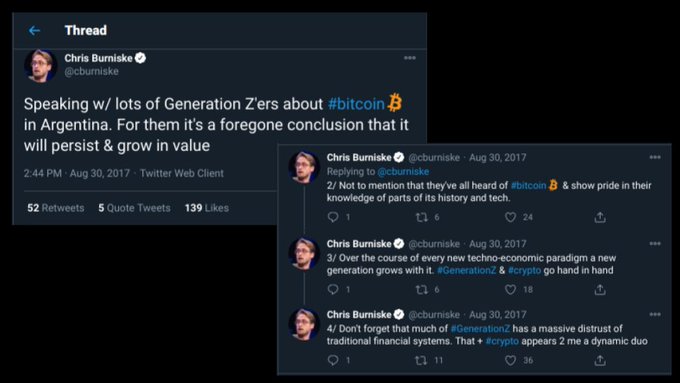 About the author
Anil is an independent bitcoin educator based in Canada. He holds an MBA, CBP and was part of MIT's inaugural FinTech certificate cohort. He's guest-lectured at Business schools and launched the first Bitcoin-specific university scholarship in Canada. His focus is on simplifying concepts through visuals and storytelling to make bitcoin easier to comprehend.
You can follow him on Twitter @anilsaidso
You can pre-order his book representing approximately 3,000 hours of research, teaching, writing and design in an effort to best communicate Bitcoin as a concept.