As a regular reader of the decentralize.today you'll know that I'm not a fan of anything that invades your privacy, sells your data and tracks your every move. Sadly, most websites take the easy way out when it comes to stats and choose Google ANAL-ytics!
But you know you can actually run analytics for your website without any Google involvement. In fact, you can even skip the cookies! #privacymatters #degoogle #ungoogle
On top of which, don't you hate the entire 'accept cookie' agreement thingy? I sure do!
Now, don't get me wrong, if you have websites with member areas etc., a cookie might be necessary but that is not the case when it comes to analytics. And analytics shouldn't become ANAL-ytics!
Thankfully you have some options, and some of them provide an almost identical set of stats to Google but without the need for cookies or banners or agreements or interfering with visitor privacy.
So let me lay out a few of the best ones for you in today's chapter of the Privacy Cookbook.
Matomo
Matomo is fully open-source and gives you two options. One is using the paid Matomo service hosted by Matomo and the other is to host it yourself! There is no 3rd party to whom your data shared or sold!
Matomo records the usual stats about your visitors, such as location, time of visit, what browser or screen resolution they used, what OS are they on etc.
Matomo has different ways to track your users, one is via cookies (!) and JavaScript (via Tracking-API). But, unlike Google, they also have a solution called Log Analytics
Here is how it works:
All web servers generate access log files which contain all of the requests made to the server i.e information from each user on your website. This means valuable data from your website visitors becomes available without the need for a JavaScript tracking code, this includes – location, device, browser, referrer site etc. This solution is unlike the cookie and Javascript combination so GDPR, CCPA and PECR worry free!
If you want to try Matomo you can get a 21 day free trial, no credit card needed and you can analyze your traffic within minutes! Paid plans start at 19 euros a month, but as I already mentioned, you can always self host Matomo.
It is surely one of the most complex and best solutions out there. Integration on the site is as simple as adding 2 lines of code.
Open Web Analytics
Open Web Analytics is the free and open source web analytics framework that lets you stay in control of how you instruct and analyze the use of your websites and application.
OWA uses a simple JavaScript and PHP based API. You need to self host this one but it gives you all the stats you need in a non-intrusive fashion plus in a 'without warning banner' way! Just stats, no privacy invasion. GDPR, CCPA and PECR worry free!
GoAccess
GoAccess is an open source real-time web log analyzer and interactive viewer that runs in a terminal in *nix systems or through your browser. GoAccess is easy to deploy and has all the stats you will need. Self hosted and without the need to inform your visitors of trackers and cookies. GoAccess is GDPR, CCPA and PECR worry free! No privacy is invaded and the way GoAccess is logging your visitors is 100% private and acceptable.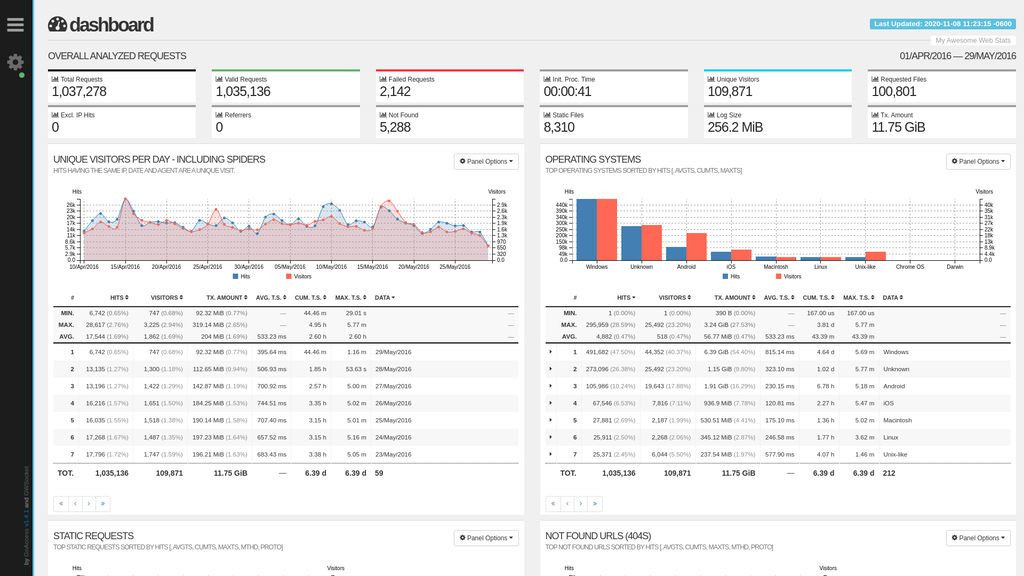 Simple Analytics
This one does not use cookies or collect any personal data and just like the ones above it is GDPR, CCPA and PECR worry free! Simple Analytics gives it all away in it's name, it is simple and just has the essentials. Page views, referrers, top pages and screen size. It can also screenshoot the tweets that refer to you and some other social media links that bring traffic your way. Decentralize.today was using this for a while and were really pleased, but for research reasons went with the next entry on this list.
Simple Analytics allows you to point a subdomain to their servers and generate a code for you based on your own subdomain. This way adblockers do not block your analytics. The way Simple Analytics measure your traffic is 100% acceptable and does not invade any privacy of your visitors. Two simple lines of code are added to your site and you are ready to go.
Simple Analytics gives you 30 day free trail and plans start at $19 a month. There is no self hosting solution available. Simple Analytics is not fully open-source, which is a bummer, but does have its scripts on an open-source GitHub page.
Plausible
This is just as simple as Simple Analytics and only gives you what really matters. Unique visitors, total pageviews, bounce rate, top referrers and top pages. Plausible is a lightweight and open-source website analytics tool. It doesn't use cookies and is fully compliant with GDPR, CCPA and PECR.
Just like all of the above, it doesn't collect any personal data, the script is 45 times smaller than the one Google Analytics uses, which impacts the loading time of your page vs one loaded up with Google Analytics. You can also share the stats with your audience or send a customized link (password protected or open) to your friends, visitors, colleagues or business partners. It is easy to integrate into WordPress, Ghost, Squarespace, Wix, Weebly and basically any website via a simple code injection. Two lines...just as simple as with Matomo or Simple Analytics.
Plausible can be self hosted via a docker-based self hosting setup, but we actually recommend to support this awesome project and go with a hosted solution. You can generate and point a CNAME setup to a subdomain of yours so ublock origin and other blockers can not block your stats.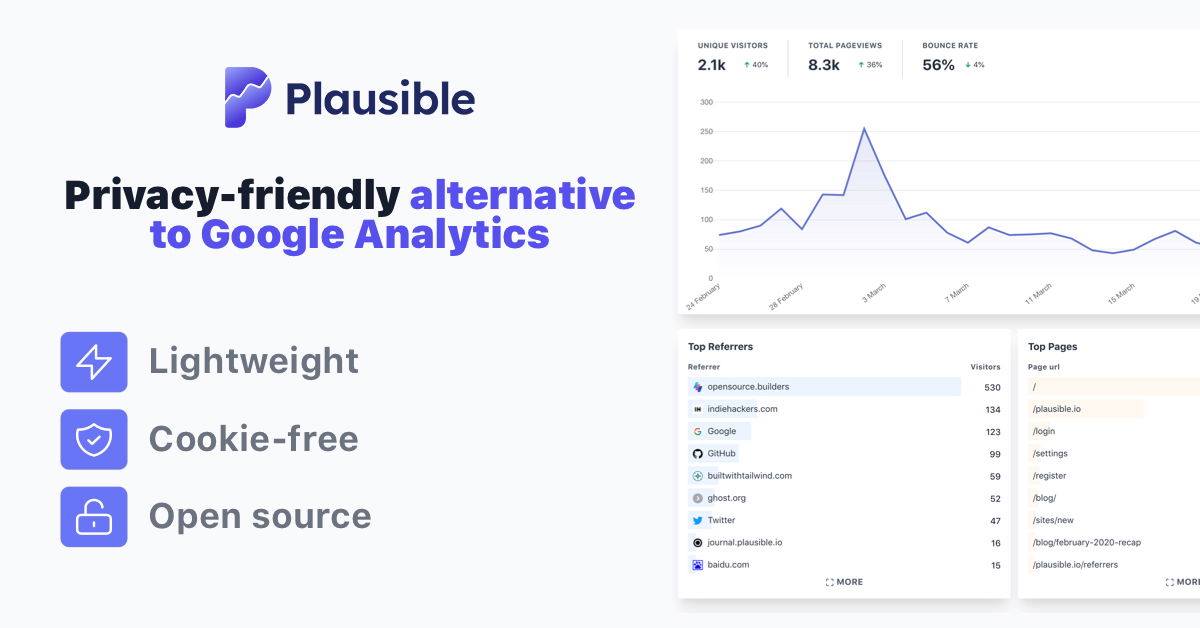 All of these solutions truly respect your visitors' privacy! Test them all, get a feel for them and pick the one that fits best, just get rid of Google. Do it for a freer, better internet and for your visitors! Privacy really does matter!
Stay safe and stay secure!
The Privacy Advocate
💬
We publish a daily dose of decentralization here every day (UTC+8), for additional daily updates follow us on Mastodon, Twitter, Telegram or Element(Matrix). Please like & share all our output. We rely on User-Generated Content so why not write for us and since we try to avoid ads and sponsorship, why not donate to help us continue our work - all major cryptos accepted. You can contact us at decentralize.today and at blog@decentralize.today