TWEETSTORM is an occasional series on decentralize.today where we share memorable tweet threads from the omnipresent Twitter!
Allow me to share an article I wrote that looked into how shitcoins perform after being listed on Coinbase. After digging into it, I remain highly critical of Coinbase's questionable listing policies and marketing strategies. TL;DR - Coinbase is the woooooooorst
In 2017, Coinbase had 4 coins outside of Bitcoin listed on their platform. Fast forward to today, and Coinbase offers 161 cryptocurrencies. Most of them I have never even heard of. (Pawtocol...anyone? lol) Apparently, business has been good in the coin listing business.
I was motivated to write this after Coinbase recommended "Top 10 Picks" to their customers that didn't include Bitcoin despite Bitcoin outperforming 99.9% of shitcoins long term. They even recommended AXS over BTC two weeks AFTER its Ronin Bridge suffered a $625 million hack.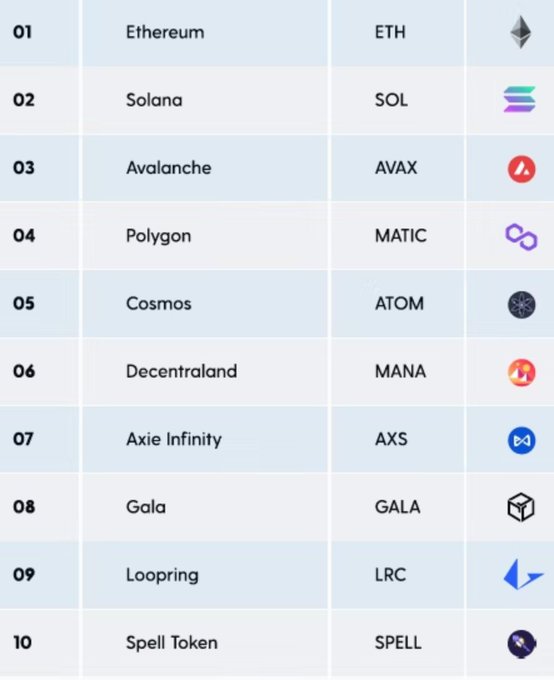 Since being recommended by Coinbase, these "top 10 picks" are down an average of -37% against Bitcoin. If a customer of Coinbase heeded their advice, they would have lost money on these shitcoins instead of simply saving in the less risky asset, Bitcoin, for the long term.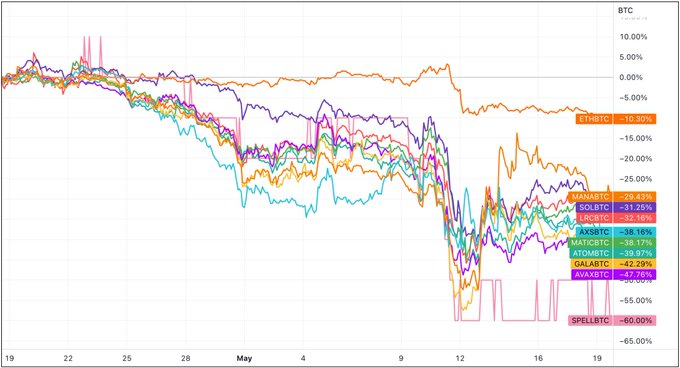 Coinbase's marketing is highly skewed towards shitcoins that are riskier and less secure than BTC. Their education around BTC is atrocious. They don't want their clients buying and holding BTC cuz they want them to trade themselves into oblivion & collect those sweet tx fees.
It's important to note that Coinbase also makes money off of listing fees. They constantly push the shitcoins they list on their unsuspecting clients who end up losing their life savings thinking they are buying the "next Bitcoin" See exhibit A:
In 2017, Coinbase had 4 coins outside of Bitcoin listed on their platform. Fast forward to today, and Coinbase offers 161 cryptocurrencies. Most of them I have never even heard of. (Pawtocol...anyone? lol) Apparently, business has been good in the coin listing business.
It's important to understand the game at play here...when a shitcoin is created, early investors typically make investments, a development team is formed, and a % of the coins are issued to these insiders at extremely low prices.
First, let's look at how the original 4 cryptos listed on Coinbase have performed against BTC since being listed. All were marketed as competitors to Bitcoin. Since being listed, 3 of the coins are down >80% against Bitcoin. Only ETH has outperformed (we'll get to this later).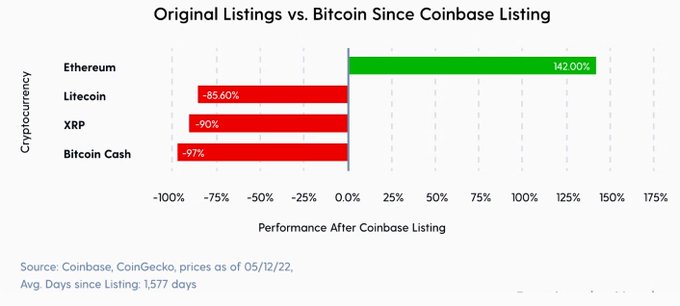 Next was the ICO craze. Despite most of these ICO coins having little to no liquidity or even working products, Coinbase listed them on their platform anyways. They looked past the red flags and instead saw it as an opportunity to collect listing fees and expand its product.
Once the coins were listed on Coinbase and the early investor lock-up periods ended, these insiders had a large platform to dump their positions on unsuspecting investors & walked away with massive profits. Here's how 10 popular ICOs have performed against BTC after being listed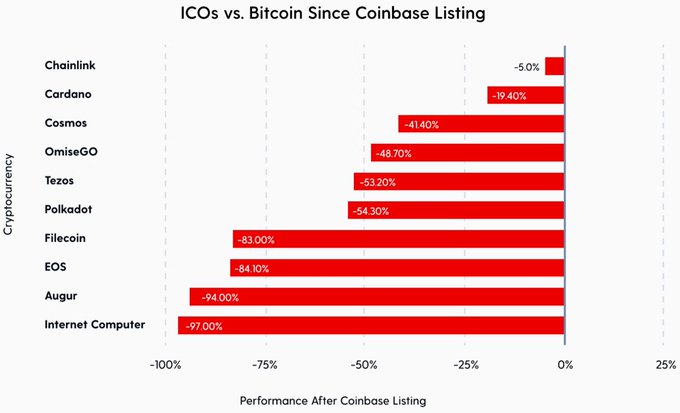 As you can see, every single one of these ICOs have underperformed BTC since they were listed on Coinbase. A majority of these hyped ICO tokens are deeply negative against BTC, with an average drawdown of -58%. And yet, Coinbase still rarely markets BTC to clients...weird.
Next was the DeFi craze. Coinbase was quick to list & market these tokens despite the heightened operational, security, and regulatory risks that came with them. SBF was on a recent podcast explaining what DeFi was, and it led Bloomberg Journalist Matt Levine to respond with..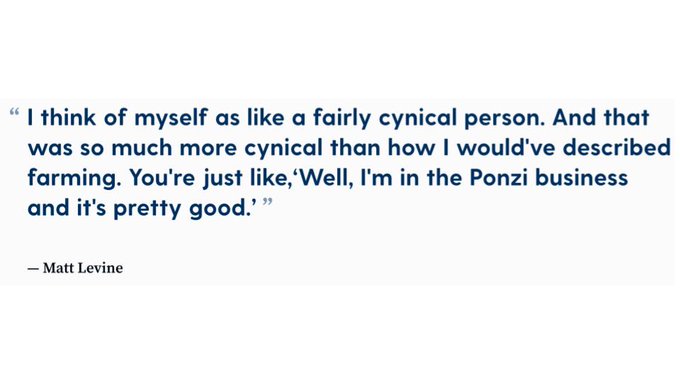 Here's how these DeFi coins have performed against BTC since being listed on Coinbase. After being heavily pushed on their clients, these DeFi tokens are completely rekt against BTC. Since being listed on Coinbase, the average loss against BTC for these DeFi tokens is -61.6%.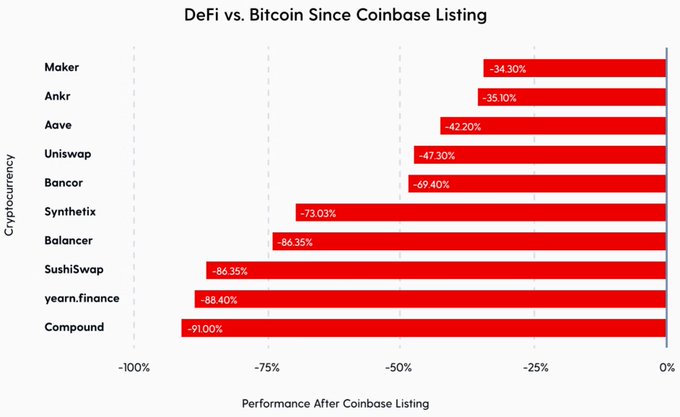 The point here is that Coinbase must hate their clients or something. It's a platform that provides exit liquidity for insiders to dump their worthless tokens. Once a token gets listed on Coinbase, a majority of the upside has already been made by insiders via backroom deals.
It's not just me cherry-picking here. Jump Crypto performed a study that analyzed the performance of 3,759 tokens against BTC over the 8 years between 2013-20021. It concluded that 84% of the tokens analyzed were underwater against Bitcoin, with a median annual return of -78%.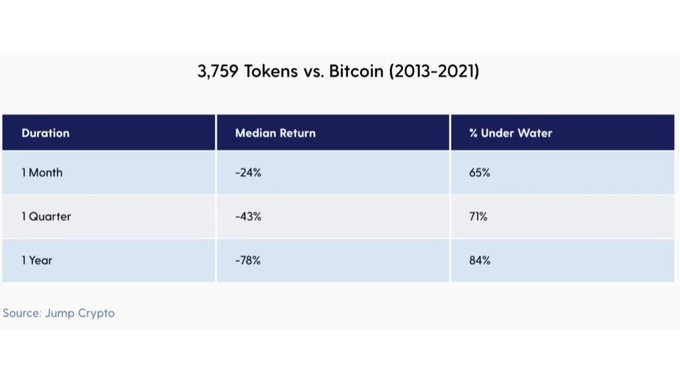 Sam Callahan@samcallah·May 20Furthermore, I analyzed all 161 cryptos that have been listed on Coinbase and compared their performance against Bitcoin since listing. The median performance against Bitcoin after their listing is -67.3%, with a median days since listing of 274 days. (Read that again please)
Sam Callahan@samcallah·May 20This data is evidence that BTC and other cryptos should not be considered similar. BTC has unique properties that allows it to hold its value over time. Every other crypto besides Bitcoin is better thought of as a digital penny stock. You won't hear this from Coinbase tho...
Back to ETH...from its time of listing, it has actually outperformed Bitcoin. But the data above highlights how continued demand for Ethereum has been driven by its switching claims from being a platform for ICOs, to DeFi, and then NFTs (which nearly all underperformed Bitcoin).
In the beginning, ETH was not marketed as a long-term investment but rather was promoted as "digital oil". Most ETH holders didn't hold their ETH long term, but instead traded their holdings for other cryptos that were spawned on Ethereum during these various speculative crazes.
It's important to understand what you own and don't own when it comes to Bitcoin and the rest of the broader crypto industry. It's about time we separate Bitcoin from other cryptos and call out the irresponsible, questionable marketing and coin listing practices of Coinbase.
What retail investors desperately need in today's macroeconomic environment is a digital sound money that can't be inflated or censored. They need to be saving in Bitcoin to preserve their wealth — not gambling on unregulated digital penny stocks using bucket shops like Coinbase.
The end.
If you are sick of being exit liquidity for insiders and getting shilled shitcoins, then delete Coinbase and come check out a real Bitcoin company who will treat you right, like @swanbitcoin (Disclosure: I work there) I think the reviews speak for themselves.
Sam's original article!
😃
We publish a daily dose of decentralization here every day (UTC+8), for additional daily updates follow us on Mastodon, Twitter, Telegram or Element (Matrix). Please like & share all our output. We rely on User-Generated Content so why not write for us and since we try to avoid ads and sponsorship, why not donate to help us continue our work - all major cryptos accepted. You can contact us at decentralize.today and at blog@decentralize.today - many thanks for all the donations received recently, much appreciated, DT