Miles Deutscher@milesdeutscher
137k (~$3b) worth of #Bitcoin could be dumped onto the market, 8 years after the Mt. Gox hack. Some are labelling this as the biggest "black swan" in $BTC history.
1/ What you need to know about Mt. Gox: A fascinating story of hacks, lies and deceit.
2/ Firstly, some history: Mt. Gox was originally founded in 2006 by @JedMcCaleb as an exchange to trade Magic: The Gathering Online cards (hence the acronym MTGOX). The site only operated for a few months before Jed moved onto other ventures.
3/ Years later in 2010, Jed started to develop an interest in #Bitcoin. He spotted a gap in the market as there wasn't an easy way for users to exchange $BTC at the time. He still had the mtgox. com domain lying around, and used it to officially launch a BTC exchange.
4/ After 10 months, Jed sold the exchange to Mark Karpelès (@MagicalTux) at a valuation of 6 months' revenue. After just a few months with Mark at the helm, Mt. Gox doubled its trading volume to ~20,000 transactions a day. At the time #Bitcoin was trading ~$1.
5/ But it wasn't all smooth sailing. According to Bishr Tabbaa, in June 2011 Mt. Gox reported that 25,000 $BTC were robbed via a compromised computer ($400k at the time). Today, those Bitcoin would be worth ~$525,000,000.
6/ The attacker then used artificial trading activity to cause the price to temporarily plummet from $17 to $0.01, scooping up an additional 2k BTC in the process (using stolen customer wallets).
7/ In the years following, Mt. Gox had a series of controversies:
• Accidental transaction log fork in March 2013 (causing a 23% crash)
• Suspended trading in April (causing a 50% crash)
• $75m lawsuit and US DHS warrant in May
• Suspended withdrawals on June 20th
8/ But despite these issues, trading volume on Mt. Gox continued to explode. It was by far the biggest crypto exchange, handling 70% of all $BTC trades.

9/ In December 2013, all appeared to be golden at Mt. Gox. Revenue was at an ATH, and #Bitcoin had recently breached $1k for the first time. But then the unthinkable happened.
10/ By February 2014, customer complaints were mounting as people   were experiencing huge delays when withdrawing $BTC. On the 7th, Mt. Gox officially suspended withdrawals, citing they needed a "clear technical view of the currency processes."
11/ On the 10th, they admitted to finding a "bug in the Bitcoin software", leading to altered transaction details. This effectively meant $BTC could be resent as transactions were labelled as invalid. This type of exploit is due to an issue called "transaction malleability".
12/ For the next 2 weeks, angry customers were left in the dark - unable to withdraw their Bitcoin. On the 17th, The CEO Mark held the narrative that "Mt. Gox should be able to resume withdrawals soon", and that they were "committed to solving this issue."
13/ However, just 3 days later Mark resigned from the board of the @BTCFoundation, shortly followed by Mt. Gox removing all of their Twitter posts. Subsequently, their website went offline.
14/ On February 24th, a 'crisis management' document was leaked, revealing that Mt. Gox was insolvent after losing an estimated 850,000 $BTC. Today, that's worth ~$18,000,000,000 (4% of the total $BTC supply).
15/ 4 days later, Mt. Gox officially filed for bankruptcy. They finally admitted to losing 750,000 of their customers' Bitcoins (including 100,000 of their own).
coindesk.comMt. Gox Files for Bankruptcy, Claims $63.6 Million DebtThe exchange's lawyer announced the news during a conference at Tokyo's District Court late on Friday.
16/ Remember the 2011 hack I mentioned earlier? Well, it turned out that the Mt. Gox private key was "unencrypted and stolen back in 2011." We don't know how the hackers obtained this key. There's speculation an insider may of assisted.
17/ Here's where things get really interesting. Mt. Gox released a statement on their website on 20 March 2014, stating that they had "found" 200,000 of the 850,000 missing $BTC.
18/ In 2015, Nobuaki Kobayashi was appointed as the rehabilitation trustee by the Tokyo District Court. His role is to oversee the reconciliation of creditors.
19/ Meanwhile, CEO Mark Karpelès was arrested for fraud and embezzlement in August 2015. It was found that he manipulated Mt. Gox computers to display incorrect balances, and "stealing" $2.6m worth of user funds for personal use. He is currently serving 30 months in prison.
20/ For many years, the Mt. Gox situation stagnated as a result of lengthy legal proceedings and investigations.
21/ But, in November 2021 Mt. Gox and the Tokyo District Court formalised an official "Rehabilitation Plan". This plan outlines the intent to repay creditors.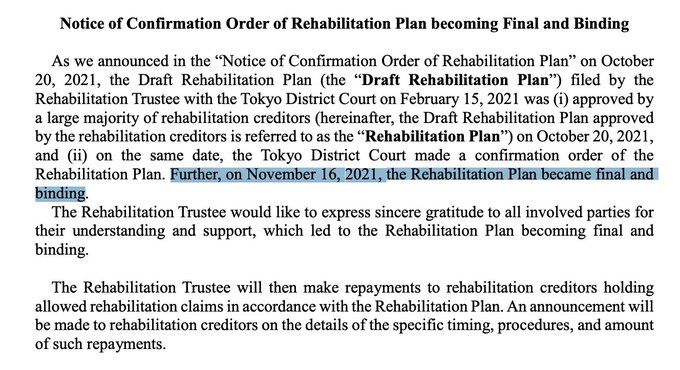 22/ This brings us to the present day. On July 6th, creditors received an email regarding payments. Mt. Gox stated that "The Rehabilitation Trustee is currently preparing to make repayments."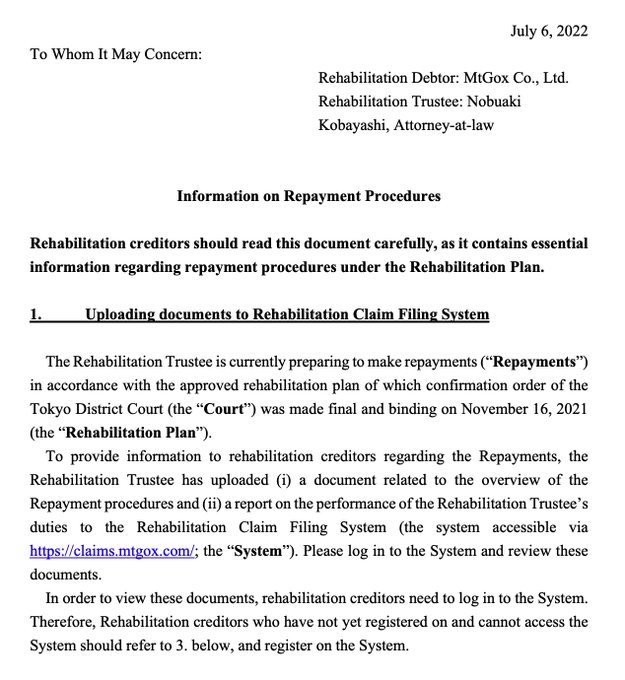 23/ The rehabilitation trustee is responsible for issuing payments to the creditors (in this case Nobuaki Kobayashi), who's overseeing the rehabilitation process. As per the balance sheet, they currently hold 137,000 $BTC. That's valued at ~$3,000,000,000 at current prices.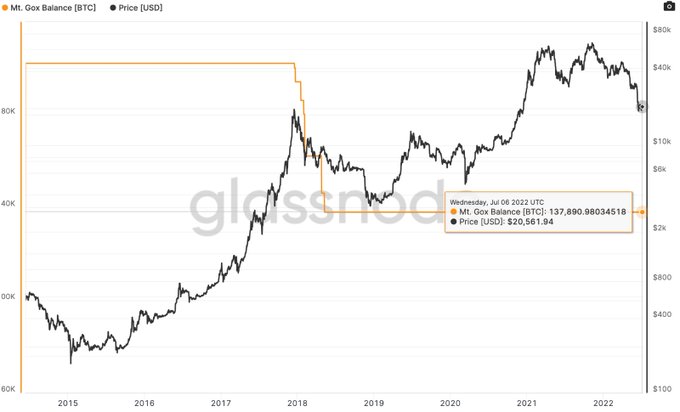 24/ Creditors have the option of receiving USD, $BTC or $BCH. It's estimated that creditors will start receiving funds as early as August. Many people are panicking that the release of these funds will lead to a huge supply-dump, which could significantly impact the $BTC price.
25/ Could this be the catalyst to spark the flippening?  
26/ Or simply an excuse for @RichardHeartWin to flex his visually unattractive and overpriced outfits?
27/ Although the prospect of a $3b dump sounds scary, we must keep a few factors in mind. Firstly, not ALL creditors will sell their #Bitcoin. Some will continue holding. They have already seen multiple cycles, and lower $BTC prices makes selling a less-attractive proposition.
28/ Many of the creditors who desperately wanted to sell would've likely been bought out by bigger funds or adjusted their crypto exposure accordingly.
29/ The biggest argument for creditors not selling is psychological: They were forced to hold an asset for many years and have seen massive returns. $BTC is so much more "proven" as an asset now than it was at the time of purchase. It's unlikely the majority choose to sell.
30/ But purely for argument's sake, let's say all $3b hits the market. Would this cause a #Bitcoin crash? Probably (in the short term). Recently: LFG dumped 80k $BTC, 3AC were forced to spot sell billions worth of assets, and miners have been continuously dumping huge amounts.
Miles Deutscher@milesdeutscher
31/ These events account for billions of $ worth of $BTC hitting the market. The result? A huge price hit. But, the price impact of LFG + 3AC wasn't just the selling - it was the sentiment hit + forced liquidations triggered.
The worst is behind us.
💡
We publish a daily dose of decentralization here every day (UTC+8), for additional daily updates follow us on Mastodon, Twitter, Telegram or Element (Matrix). Please like & share all our output. We rely on User-Generated Content so why not write for us. We also avoid ads but welcome sponsorship and donations to help us continue our work - all major cryptos accepted. Contact us at decentralize.today and at blog@decentralize.today - many thanks for all the donations received recently, much appreciated, DT